South OKC Rotary Club
Serve the community, meet fellow business people, and have fun!
Fridays at Noon | South Oklahoma City
Come by and join us at a meeting, fund raiser, service project or a get together! Rotary was founded to serve our Community.
Our Club meets at the Hidden Trails Country Club and via Zoom.
We'd love to have you as our guest. Please call 405-406-1790 for information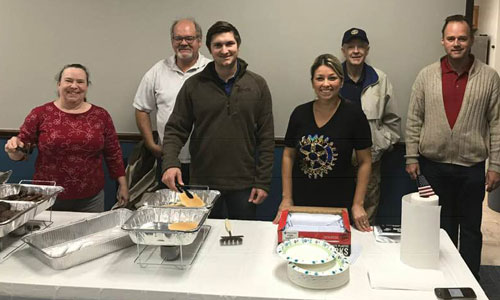 Fellowship, service, and networking
How much better can it get. Our lunch meetings and social get togethers are an opportunity to build relationships and networking with our members. You will meet civic leaders and business persons in the area. At each luncheon we have diverse speakers present their initiative. We have over thirty members, that would like to meet you.
Service opportunities
Our Club is busy with several service opportunities in our community. Come check them out.
Where We Meet
Hidden Trails & Zoom, 6501 S Country Club Dr., Oklahoma City, OK 73159 
We have lunch and a guest speaker.
When We Meet
The South Oklahoma City Rotary Club meets Fridays at 12:00-1:00 p.m.
Come join us.